Sea Trout Fly Selection
Read Time: 6 minutes
|
Published: 23rd March 2022
|
Author: Steffan Jones
Sea trout fishing is often made overcomplicated. When fly fishing at night the last thing you want and need is complications. Keeping things simple is often the key to success. This includes everything from what you carry, the tackle choice, the leader construction and even fly choice.
I love experimenting with flies as much as the next person. Without such experimentations the sport can become largely stagnated. However, I have definitely simplified my fly selection over the years and I don't carry nearly as many patterns as I once did. What I carry now are tried and tested over decades. Each one is tied on with the confidence that they have the pedigree to produce.
Fishing With Confidence
This is a level of confidence you should have whenever you attach a fly; you fish with your eyes and mind first and if you don't like the look of the fly then you're unlikely to fish it with confidence. There is a deeper understanding to it than this as I know each one has been developed or evolved with a very specific purpose or situation in mind.
The worst sea trout selection is one that encompasses just one style. I often hear anglers pontificating that slim flies are the best for sea trout, or that they must include this element, etc.. In actual fact those flies are needed, but alongside patterns that also present, for example, a different silhouette. That said, I am all for flies of a similar colour, specifically when night fishing. In fact, make them all black and silver if you want. However, make sure that you carry them in different lengths, different weights, and, perhaps most importantly, in different profiles / silhouettes.
Silhouette
To me the silhouette of the fly is the most important factor when night fishing. This is something I also work with and my fly selection always compliments. The silhouette along with the speed and depth at which it is fished is the key to success. Additionally, An unpopular opinion for you, but one I very much stand by; the movement of the materials in the fly has very little significance at night, so don't get too caught up in mobile materials.
With this in mind, less is more. At night I have a handful of patterns that I stand by and will always attach with confidence. Let me talk you through them.
I rarely fish tubes nowadays. Instead I prefer the tandem or stinger approach. I not only find that they are far better hookers, but they're also better landers of fish. I lose very few fish on them and they're easy to release with the single hooks. My go-to on this front is the BBS Stinger. Nothing Fancy, just black, blue and silver fished in different lengths. This tends to present a long and thin profile, much like that of a small sand eel, for example. The fly is not bulky, making it easy to cast, even in the longer lengths.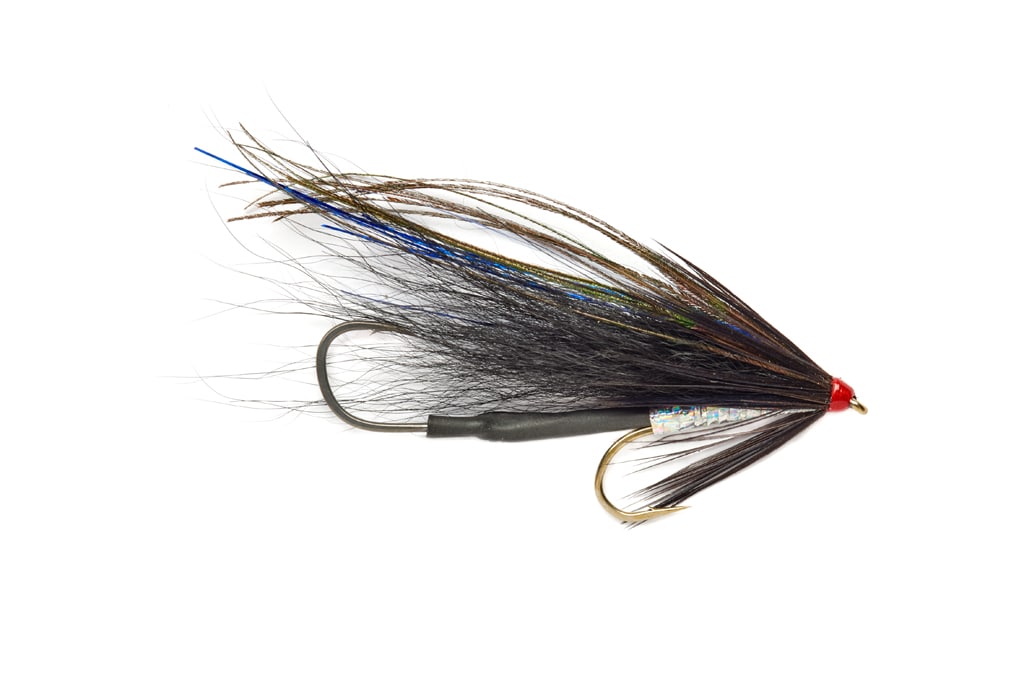 This is very much the same as the BBS stinger. But, the yellow version does tend to work particularly well on the River Towy, for example. I do not pay much attention to colour at night, but this one has enough of a proven track record to justify a slight palette change from the BBS.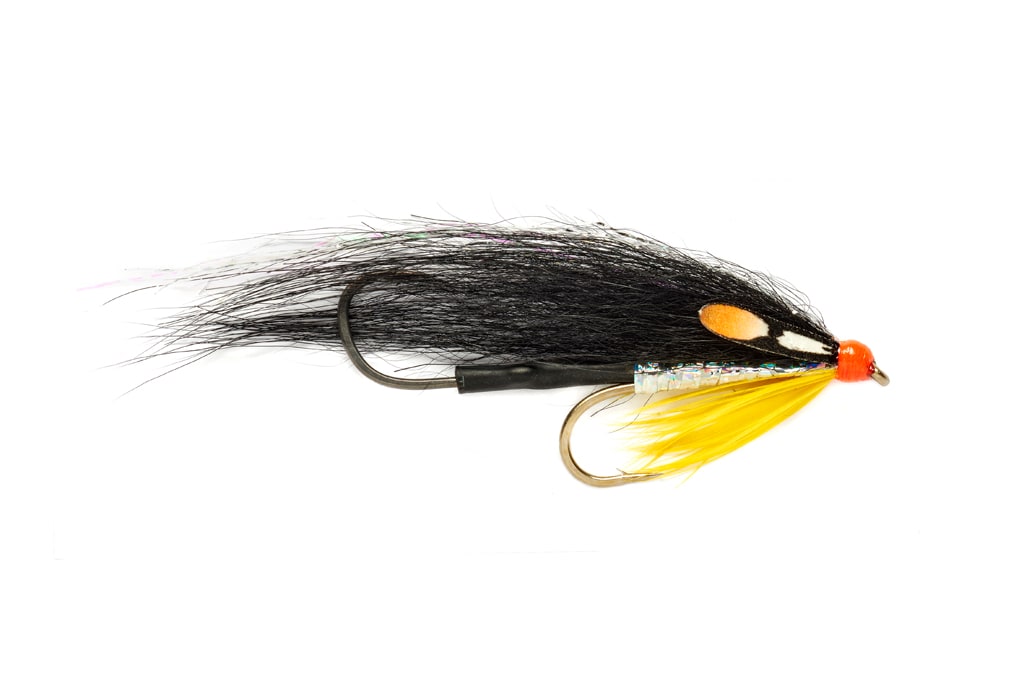 You do not want to start the night with a big offering, unless there is some colour in the water. The Mr Fish is a great pattern to start the evening with as it presents a fairly slim profile. This is another pattern I would never leave home without. It has certainly proven its worth over the years.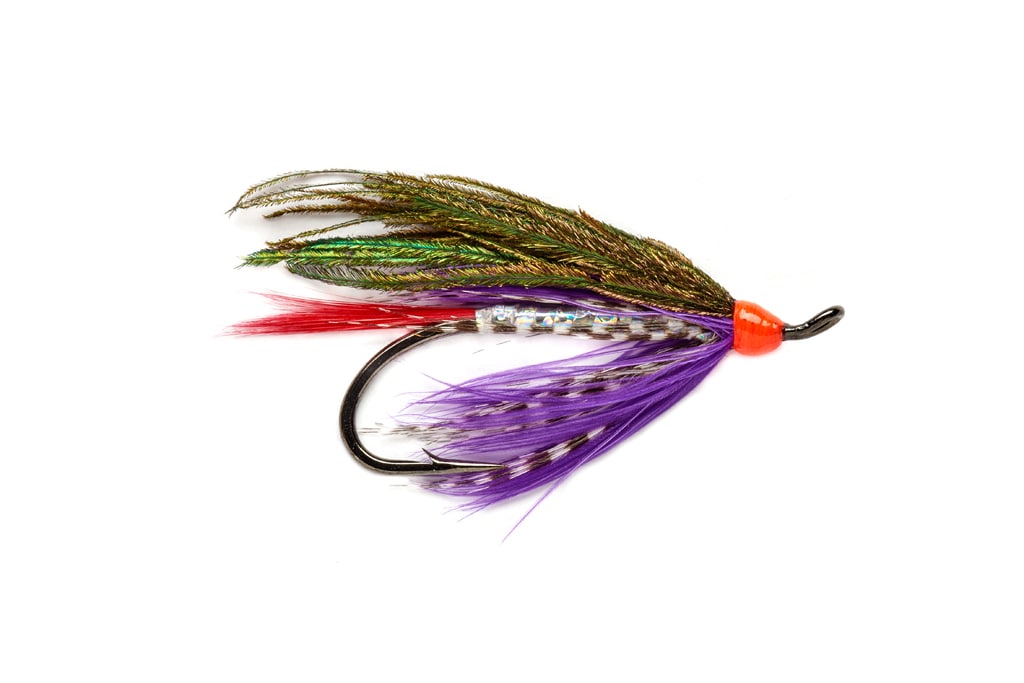 The Early Season Blue is an excellent pattern to start the night with. This is especially true in the early part of the season when lighter and brighter patterns can often work well for the fresh run fish. The ESB has a very slim profile, very much like a small baitfish or sand eel.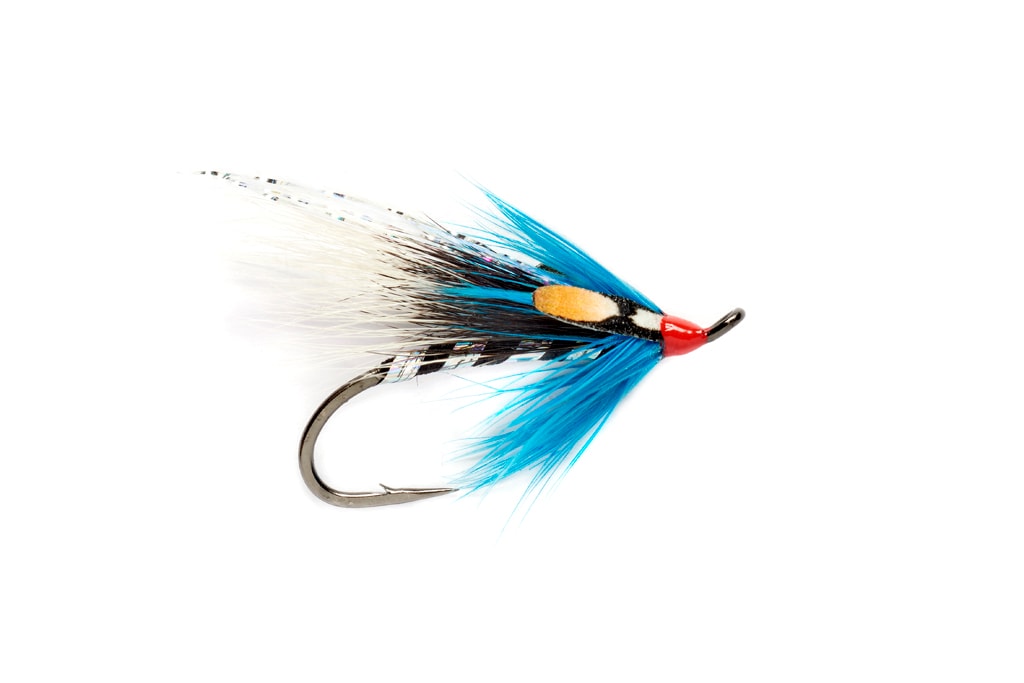 It would be rare to find me fishing without the Daioni on my cast. It can be fished solo, but for me it is best fished as a dropper pattern. Additionally, it has a very thick profile given the palmered hackle and pushes a lot of water. I tend to fish the Daioni with a slim pattern on the point, to present the fish with the best of both worlds and two very different propositions. You will be amazed how many fish will be caught on the dropper. Most seasons the dropper will account for more than 50% of the catch.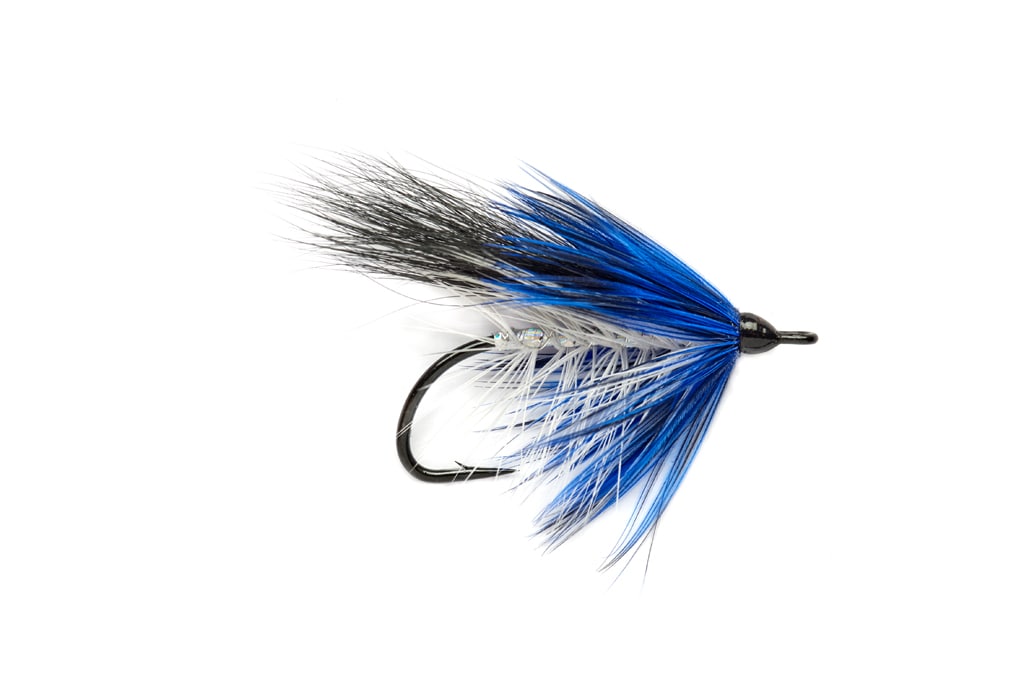 No sea trout selection would be complete without a surface lure of some description. When a smaller fly is called for but I still want to create a wake in the surface film or have a bolder silhouette, then I will often rely on a small muddler pattern. However, when fishing later in the night and on particularly dark nights, a larger silhouette is needed. For this I like to use a big morsel for the fish to intercept on the surface. This is when the Night Stalker comes into contention. Whilst throwing a large silhouette, it is relatively lightweight and can be cast with ease.
These flies form the backbone of my night fishing selection. There are other flies I would not be without, but these are largely generic daytime patterns such as the sunray shadow. I am confident that if you carry the aforementioned patterns then they will produce for you and on that note I wish you tight lines.
About Steffan
Steffan is counted as one of the leading authorities on sea trout fishing, with his book Sea Trout Tips, Tricks & Tribulations becoming a must-read on the subject.
Steffan has fished for sea trout on his home rivers in Wales for over thirty years and has guided on them for over twenty five years. Over this time he has amassed a wealth of knowledge and experience on the species, channelled into the flies he presents in the Fulling Mill range.
If you're looking to fish for sea trout in Wales then do check out Steffan's website. Or, if you're looking to target them in Argentina and making use of the range of flies he has produced for Fulling Mill on that front, then check out www.fishtravel.co.uk or contact him with questions and for recommendations at info@FishTravel.co.uk