ROW: New River Flies for 2023
Read Time: 5 Minutes
|
Published: 23rd January 2023
|
Author: Fulling Mill
2023 is here, and we've been hard at work sourcing and designing new flies for you during the past 12 months. While a lot of our focus for 2023 was on upgrading our stillwater range, we couldn't resist adding some phenomenal patterns from Howard Croston. Innovative as always, these patterns use our Drop Beads and Jig Backs in ways no others have before. Please enjoy our new river flies for 2023!
The Full Metal Jacket is the ultimate combination of extra weight and slim profile. World Champion Angler Howard Croston's innovative bead fixing method with our Tungsten Drop Beads ensures that this fly is extremely heavy, but still slim. This is no small feat. On top of that, the combination of materials on this pattern make for a fantastic imitative look, with just the right amount of flash to catch a trout's eye. This nymph will get down into the strike zone faster than just about anything else, and will fool them time and time again.
This is a micro version of the standard Full Metal Jacket. It incorporates the same bead fixing method, but is instead finished as a simple perdigon. This pattern is available in a size 22 with a 3.2mm Tungsten DropBead, and will sink faster than anything in your fly box.
This simple chenille worm utilizes our Tungsten Drop Bead in the center of the hook shank. Additionally, the bead is painted with a hot spot for a fluorescent pop. This allows it to be level when sinking, and it rides similarly through the drift.
This may be one of the best jig streamers we've ever fished. Howard developed this FIPS legal pattern for targeting large fish in heavy water. It represents baitfish, sculpins and even crayfish. Equipped with a XL Tungsten Jig Back and a 3.8mm Tungsten Bead, this gets down and has an amazing jigging action.
This deadly FIPS legal micro zonker is perfect for when you need a smaller profile baitfish pattern that isn't overly intrusive when it enters the water. Best fished upstream on dead-drifting techniques with little added animation.
The Jig Pin Sculpin is an subtle and realistic sculpin imitation. Using very little flash and a hardened head to hold a sculpin profile, these will look just like the real thing when you jig it along the bottom.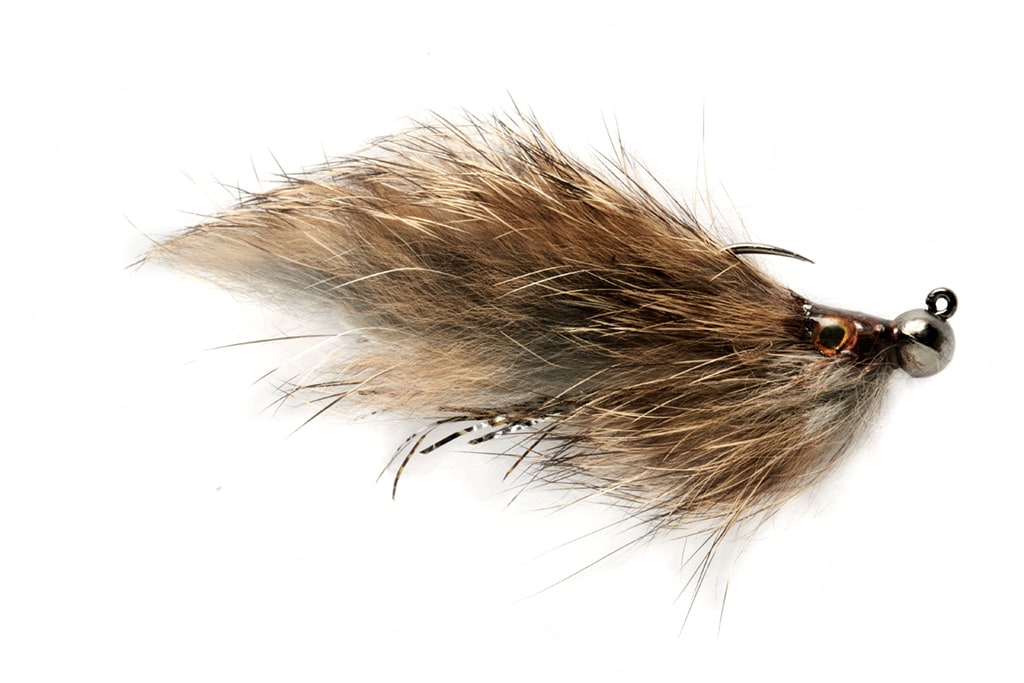 Our new river flies for 2023 are just the beginning. We have a host of other new patterns for 2023, and you can check them all out here!